In lieu of searching for a new 'do, I stumbled upon these pics and thought they looked
awesome
!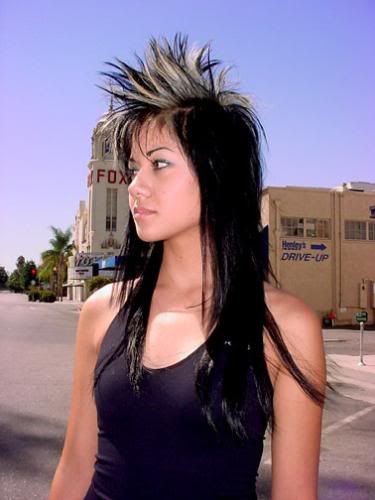 I really wish I could do this, but a.) the shortest lengths of my hair aren't short enough for this to work, and b.) everyone who knows me will know that I look like a rocker-wannabe, because this isn't "me". I also noticed the chick's shirt in the second picture and I believe her hair was inspired by the MySpace wonder that is Tila Tequila:
I wonder how long my late nights of going out will last. I'm starting to feel the 'wear': fatigue of my body and wretchedness on my skin. Yesterday was no exception, although I did spend the day downtown with the girls. Last night I went to Krave nightclub with the usual clubbing gang. Expected it to be Asian night because it was hosted by
Fuel Productions
, but it was about HALF Asian and the rest miscellaneous. Not that I was complaining.
But I was complaining about the people who spilled drinks on MY SATIN GOLD SHOES and I got elbowed hard in the face by a crazy dancer (I hate being eye-level to people's waists!). The music was good, but we left around quarter to 2 when the music started to wind down to House. We usually bounce around 2-2:30, so we did what we always do when we don't want the evening (early morning?) to end too early: eat greasy junk food.
So good for the craving, so bad for the figure. "A moment on the lips, forever on the hips!"